How Sting & Shaggy Turned An Unlikely Friendship Into A Collaborative Album
posted by James Dinh -
If you asked Shaggy what he was doing last summer, he'd tell you that he was working on a record called "Don't Make Me Wait" inside of Los Angeles' famed Village studio. Fueled by a throbbing bassline, the three-minute track heard the dancehall star singing an ode to an unforgettable romance with his usual "come and get it" lure. But the song went onto another form after Martin Kierszenbaum, Sting's manager and Shaggy's former A&R executive, sent the former Police bassist the draft of the song. It was shortly afterward that Sting left his home in Malibu and surprised Shaggy by busting down the studio door and singing the track's hook. Throw some Ting - Jamaican grapefruit soda - and Gin into the mix, and you have the ingredients to their warm team-up, which was released across all major platforms on Thursday (January 25).
Just a day before its release, an experience the pair likened to having a baby, Sting and Shaggy took to iHeartRadio HQ in New York City to discuss their collaboration, and, to what may be a surprise to some, the road to their collaborative album was a rather seamless effort.
Just a few weeks ago, the pair previewed the track for the very first time when Sting performed during the sixth annual charity concert, Shaggy & Friends, which took place in Jamacia. Benefiting the island's Intensive Care Unit of their Bustamante Children's Hospital, the affair saw the duo take the fruits of their labor to the public and it proved to be a moment that truly resonated with the Kingston audience.
"We played it in Kingston about three weeks ago to 15,000 people, who'd never heard it before, and by the middle of the song, they were all singing it. That says something," the British singer recalled. "People hate new songs. They just want to hear the old stuff, so when they start singing something, in the middle of it, you realize there's something working here."
While their team-up sounds odd on paper, the influence of Jamaican culture and music on a figure like Sting has been all too apparent since the beginning of his career in the late '70s. But as Sting told iHeartRadio, their bond goes far beyond reason to just collaborate on music. "You don't really get to know someone until you spend some time, quality time, in the studio together and then you realize that you actually do have a lot in common. Not only that lifestyle but also many other, deeper things," he explained. Among those parallels include being married to very strong women. "We know when to say, 'Yes ma'am,'" Shaggy joked.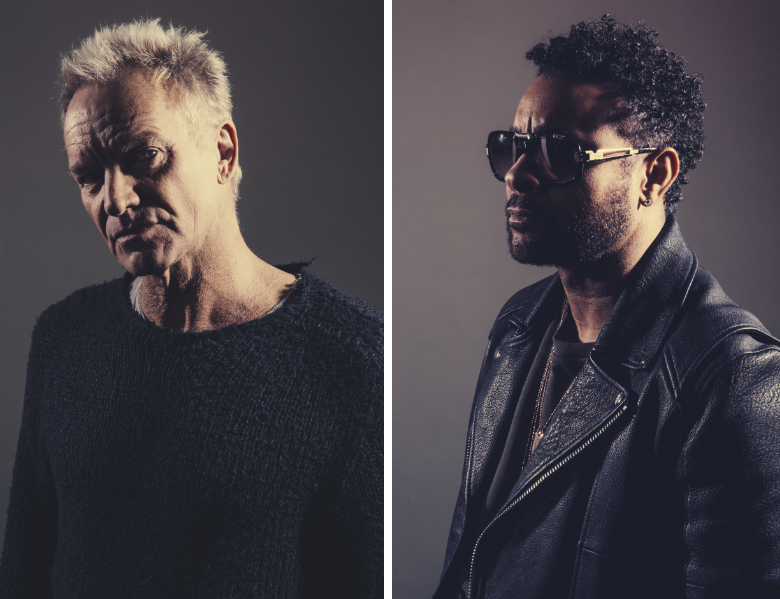 "Don't Make Me Wait" precedes the release of their collaborative island-influenced LP, 44/876, which drops on April 20, and features a string of other cuts like "22nd Street," "Waiting for the Break of Day," "Dreaming in the U.S.A." and "Morning is Coming." With those kind of titles, one has to wonder whether the pair feels a responsibility to bring us together in a landscape that appears to be separating us by the day. "Society needs to get together and so a lot of the songs [on the album] have that theme," Sting explained, before Shaggy detailed its hopeful attributes. "Even though there are strong social issues that we might address here and there in it, it's still a feel-good record. It's still a record that gives you hope and makes you feel happy getting up and I like that about it."
But for a rock veteran like Sting, who has certainly seen how things can shift, he is almost certain that change is coming. After all, there's no better weapon to promote unity than art. "Music is a socially cohesive force," he explained. "[If] people are dancing and singing together, then they can't be enemies."
For more on Shaggy and Sting's collaboration, make sure you watch out for 44/876, which is due out on April 20, and listen to their interview with 103.5 KTU below.
Photo: Katherine Tyler for iHeartRadio