Miley Cyrus Is In The Studio Making 'Heartbreaking Tunes' With Mark Ronson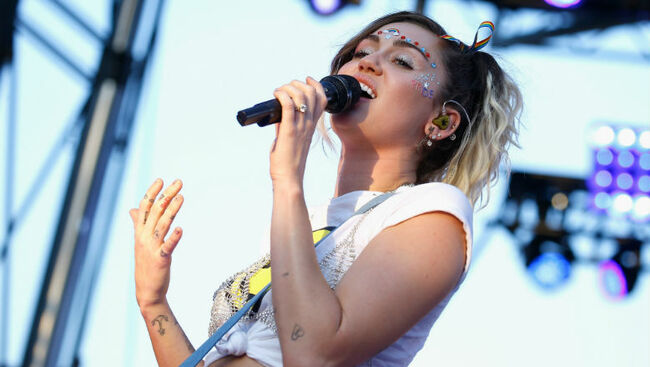 Mark Ronson is one busy man. After announcing Silk City, his new partnership with Diplo, the super-producer seems to be helping Miley Cyrus on her latest musical journey and this time the pop titan is focusing on "heartbreaking tunes."
On Thursday (May 24), Cyrus and the producer exchanged messages on Twitter and it sure seems like the pair is getting their creative juices flowing. "Jesus. Miley Cyrus can sang," Ronson tweeted, to which the star sent back an emoji-filled response. Elsewhere, the pair shared a sneak peek into their studio dynamic with the caption: "Green juices and heartbreaking tunes." Scroll on below to see the footage!
Earlier this week, Cyrus made headlines with her hit, "Wrecking Ball," (once again) by pranking a sleeping Jimmy Kimmel with some help from his wife Molly McNearney. "For whatever reason, I have become the victim of an unusual prank multiple times," Kimmel explained to his audience on Monday, reminding the crowd of his previous pop star pranksters. "I thought that was that, but I guess this is a series now because the other night, yet another music superstar barged into my dreams. This time, I was the victim of a very loud, young woman named Miley Cyrus."
During the two-minute segment, the pop star took to his home while he was sleeping to surprise him in bed with a life-sized wrecking ball, her own sledgehammer and plenty of fake rubble for an early morning wake-up call. "Wakey, wakey. Guess who it is, Jimmy!" the 25-year-old told the host in bed. "Good morning." Unfortunately, Cyrus' prank also saw her accidentally hit Kimmel in his manhood. "You hit me right in the balls," Kimmel told the star, to which Cyrus replied: "It is called 'Wrecking Ball.'"