Soundgarden Almost Hired A New Singer So Chris Cornell Could Play Drums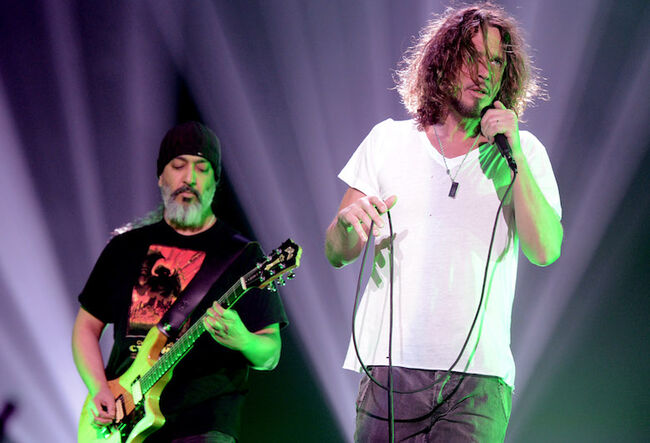 Did you know that Chris Cornell played drums during Soundgarden's early years?
In the '80s, when the band was just starting out, the frontman sat behind the drum kit. There's a fabled 15-song cassette tape that comprises the band's earliest recordings, which hasn't been released (yet). During a recent interview with Rolling Stone guitarist Kim Thayil elaborated on those early days and confessed that Soundgarden thought about hiring another singer since Cornell was that good on the drums.
"In terms of audio quality, that's all 4-track stuff that we did in our basement," Thayil explained about the cassette tape. "It'd be like bootleg-quality type stuff. But I think fans would appreciate that. At some point we'll do that. That's three-piece stuff, me and Chris and Hiro."
"He was a really good drummer," Thayil continued, complimenting Cornell's percussion prowess. "He's not like Matt [Cameron] but he wrote great as a drummer. I think so much so that Hiro and I entertained the idea of getting another singer so that Chris continued to write with us on drums. But Chris really want to get up from behind the drum kit, so he brought in a friend of ours, Scott Sundquist, on drums. It freed him up, and he got to do all the singing."
During the same interview, Thayil discussed the upcoming Cornell retrospective box set and shared special memories of his late friend. Read the full interview here.
Photo: Getty Images